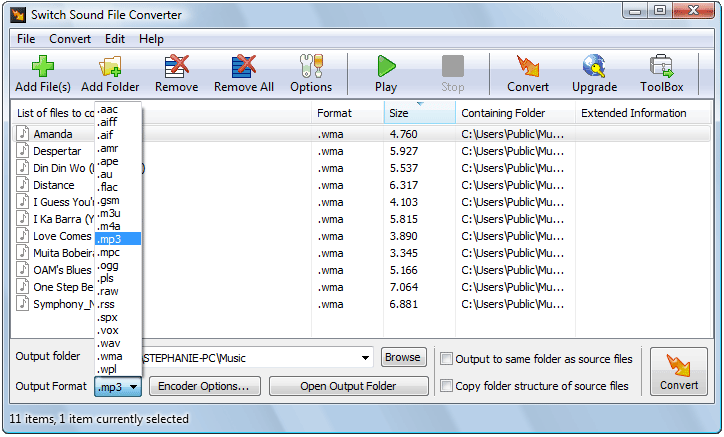 Here is a program I recommend if you need to convert audio files or want to fit more music on a mp3 player. It has to be the easiest converter I've ever used.
Switch Plus audio file converter is a sound file converter for Windows or Mac. It can convert audio files from many different file formats into mp3, wav and many other file formats.

Switch is not a simply mp3 converter, it is the most comprehsive and stable audio file converter around. With Switch Plus you can convert your sound files into the formats you need to compress for storage, create ringtones, add to a presentation, listen on your portable device and much more. In fact, the possibilities are endless using this powerful audio file converter. Switch Plus audio file converter is very easy to use. Just add the files you want to convert to the list, select the format you want to use, and then click the convert button.

A full list of the Switch Plus Sound Format Converter features follow but a quick way to try it out is to download and install the demo now. You don't need to purchase to try the demo version and it only takes a couple of minutes to complete the process. (click here to install Switch Plus). You can view pricing and purchase Switch Plus here.