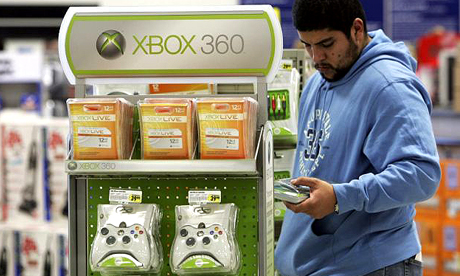 Last week, amid considerable fanfare, Microsoft released a new design for its Xbox 360 interface, allowing gamers to create their own avatars and browse content via a series of intuitive windows, rather than the drab "blade" menu system of old. It was all very exciting for five minutes - I've managed to create an online visual identity resembling a presenter on a late-night BBC4 arts programme, so I'm happy.
But one of the quieter new additions to the Xbox universe could turn out to be much more important: the Community Games channel. Here, Xbox Live users can browse and buy a range of titles created by bedroom coders using Microsoft's XNA Studio - a cheap, but reasonably powerful, development package. Importantly, Microsoft plays little part in the approval of these games - instead, each project is reviewed and certified by community members.
When a game is deemed suitable for distribution via Xbox Live, it's given ratings for violence, sex and, rather vaguely, mature content. Then it's up online for a potential audience of almost 25 million Xbox 360 users. A reasonable business model means the developers then get up to 70% of the revenue from each download, though Microsoft charges more when games are promoted on Live or Xbox.com.
There are already 20 games available, a mix of casual titles like Word Soup and Brain Party and retro-flavoured action romps, including frenzied twin-stick blasters Biology Battle and Weapon of Choice. The best at present is Blow by Vector2Games, a gentle puzzler where you direct bubbles toward the exit by carefully placing and angling a series of fans.
There are also some weird experiments like Sin(Surfing), which allows you to surf along an oscilloscope wave, and In The Pit, an audio-only horror game in where you control a blind monster, locating human victims via the sound of their breathing. This, it goes without saying, would probably not make it through the approval system of most mainstream game publishers.
All of these games were created using the newest version of XNA, which introduces an intriguing new feature - easy multiplatform development. In theory, users write one piece of source code, which is then automatically configured for Xbox 360, Windows Live PCs and Microsoft's Zune handheld. In this way, a lone coder or small studio can drastically increase the potential audience for a franchise with little addition to the workload.
Add in the already well-established Flash game scene, and the growing Google Android platform (Android Market, unlike Apple's App Store, requires no official certification for applications) and you have a vast network of distribution channels, all operating beyond the control of the orthodox videogame business - or, if you, like The Man. The bedroom coder is dead, long live the bedroom publishing empire.