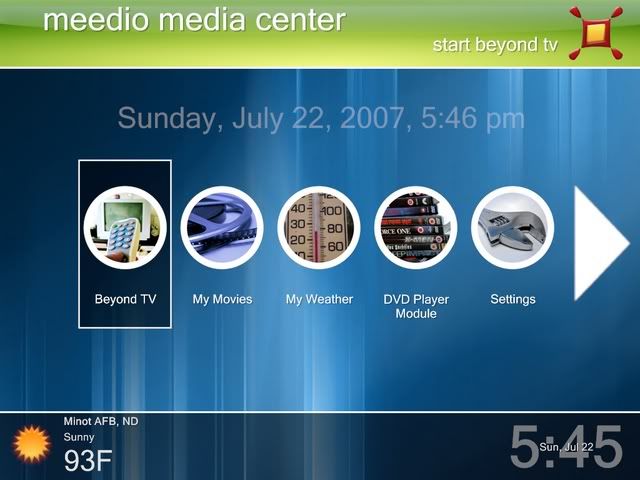 The above is a screen-shot of Meedio with the hdeetv theme. More info below.

Meedio Essentials is the award-winning solution for transforming an existing PC into an all-in-one multimedia system. Organize and enjoy your digital photos, music, and movies using an attractive graphical interface that works great with a TV and remote control. This integrated digital media center even includes weather forecasts, maps, news, and games — all of which you can enjoy from the comfort of your couch. Plus, you can personalize the entire system with hundreds of user-contributed themes, add-ons, and extensions available through the Meedio Add-Ins Directory and built-in Meedio Update module.
Meedio Official Website
As I said before, behind Meedio LLC the company, is Meedio the idea and all of us want to see it succeed. The sad truth is that we had recently hit a brick wall and did not have the resources to make it flourish. But, Yahoo! has a great team that is just as dedicated and passionate as we are in this space and, of course, they carry the content and might of an early Internet pioneer. Together, the combination can be nothing but a winner. We are thrilled at the opportunity to put the Meedio idea together with the Yahoo! experience and bring it to millions of people all around the world!
Quoted from Medio Official Site Home Page
And now for the good news.
MeediOS is an open source project and community continuing the magic of Meedio onto the next level. See our MeediOS roadmap.

This website also unofficially supports the old closed-source Meedio product (and Yahoo's Go4TV) via forums (please take care to post in the Meedio section), wiki (also contains the old MDN with many corrections and additions), and a new add-in repository, OpenMAID.
Meedios.com
My thoughts.
I've tried several different free media centers which I didn't care much for. Then I stumbled upon Meedio. At first I was discouraged because Meedio had already been bought by Yahoo. I did a little research and found out that there was another group (
MeedioOS
) that was trying to keep the Meedio software going. I was reading the MeedioOS forum and saw that there was still a free download for Meedio 1.41. I proceeded to download and install the software. I was amazed at how much you could customize the software.