TV AND SOUND SPECS:

37" Polaroid HDTV
Pioneer Receiver and speakers
HARDWARE:
Compaq Presario 6000 Computer
Pentium 4 2.4 Ghz
ATI All-In-Wonder 9600XT

760mb ram
40 gig hard drive for OS
250 gig hard drive for tv show storage
Hauppuage winTV-PVR 150 - tv card
Soundblaster 5.1 live gamer - sound card
Onboard Nvidia graphics controller
2 case fans
Microsoft Windows XP Professional
Beyond TV DVR software
Beyond TV Link software

HTPC Case
5.25 Bay Display

MONEY SAVED:


$119.88 - cost of dvr through cable company, plus you have to have digital cable (more money)
$167.70 - Tivo for a year
This computer was used by my wife until I got her a laptop for Christmas. Putting it together was pretty easy, just install the tv card and plug up the IR receiver. I tried several software programs for recording. There are a couple free ones. They are usually a little more complicated to setup. I was using Yahoo Go! TV. It is a free beta product and didn't have many options. Now I am using Beyond TV. It's a great program. Very simple to use and setup. The commercial smart skip feature is great. It doesn't catch them all the time, but does a pretty good job. I've read it's because the cable company tries to trick your DVR. I also have Beyond TV Link which is great for watching recorded shows on all the computers in the house. I mostly use it to access the guide and schedule recordings. The remote control is easy to use. Over all I am satisfied with my HTPC.
Update: Just got a new video card for my HTPC. Got the ATI All-In-Wonder 9600XT on clearance for a good deal. It works great. Now I can watch something on live tv while recording something else on live tv.
Here is what Beyond TV looks like at work.
Getting ready to put it together.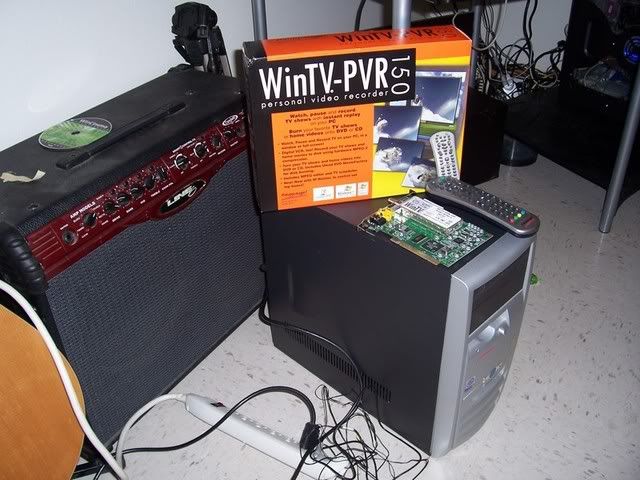 Final location behind my TV cabinet.